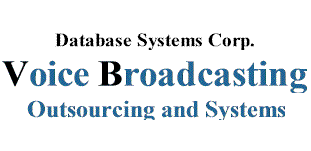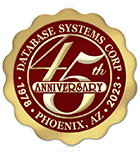 Voice Broadcasting Phone Systems and Service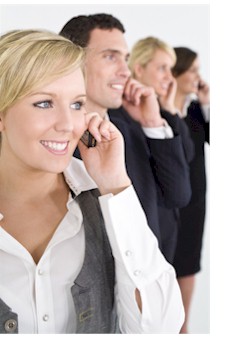 Since 1978, Database Systems Corp. (DSC) has been operating as a privately held corporation providing technology products and services. DSC has developed call center software and phone systems for businesses and community organizations. DSC provides automatic phone system solutions including call processing phone systems and outsourced calling services.
DSC is a leading supplier of both voice broadcasting phone systems and outsourced calling services. The DSC autodialing phones incorporate the latest processors from Intel and are managed using Windows operating systems. DSC also utilizes computer telephony components manufactured and supplied by Dialogic that control the phone functions.
Our voice broadcasting products include outsourced calling services, software development, and complete turnkey phone system solutions. Please feel free to contact us to receive any further information about these voice broadcast solutions.

Contact DSC to learn more about our voice broadcasting solutions and outsourcing services.




Register Online For Voice Broadcasting Service

DSC now provides an online signup for both non-profit and business organizations wishing to use our voice broadcasting outsourcing services. Signup is easy and can be completed in just minutes! Our competitive rates are affordable, even for the smallest calling campaign.

Start Calling In Just Minutes!. Using our new online signup lets you get started immediately with your calling campaign. Simply create an account and agree to our standard terms and conditions. Then download your list of phone numbers and record a message. We accept major credit cards and for as little as $25, you can begin calling. Its that simple!

To register online, click on one of the online registration images or buttons above.


---
Customer Profile - ING DIRECT

"At ING DIRECT, we do things the direct way. We do business online, over the phone and by mail. Without the overhead and high operational costs of other banks, we can pass the savings onto our customers." - home.ingdirect.com

ING DIRECT utilizes voice broadcast outsourcing services at the Database Systems Corp. call center to send voice messages to both field sales force personnel and sales agents with important marketing and promotional information. ING DIRECT delivers information regarding upcoming sales seminars and events local to each sales agent using our voice broadcasting solutions.
---
Smartphone Voice Broadcasting
Now you can manage your voice broadcasting campaigns using your Android or iPhone smartphones. The following easy to use functions are available to smartphone users.
Login to your account
Select a list of phone numbers to call
Select saved recordings to broadcast
Record messages by calling our service
Start and Stop a voice broadcast
Monitor the voice broadcast in progress
The DSC smartphone application now lets you manage any number of voice broadcasts using simple phone commands. Contact DSC to learn more about this simple way to control your voice broadcasting and to obtain a copy of this smartphone application.
Voice Broadcast Solutions
Database Systems Corp. is one of the pioneers in the development of voice broadcasting technology. In the early 90's, DSC developed its own PC based phone dialer that evolved from a predictive dialer and added agentless dialing campaigns to its computer telephony software.
What Is Voice Broadcasting?
Voice broadcasting (also refered to as phone broadcasting or message broadcasting) is a modern communications technology that blasts a voice phone message to hundreds or even thousands of call recipients in a very short period of time. This technology is often used for community alerts and notifications or in business applications.
The DSC voice broadcast system manages phone lists and instructs the phone controller to dial a number. If the call is answered (either by an answering machine or an individual), a pre-recorded phone message is played. If the voice broadcast system detects a no answer condition or busy signal, the message can be rescheduled for delivery later that day or into the following day.

If an individual answers a voice broadcast call, an IVR program can be invoked presenting menu selections to the call recipient just like an inbound call. These types of campaigns are often referred to as outbound IVR programs.

DSC provides voice broadcasting solutions to many communities and private business organization. Here are the different types of DSC voice broadcasting products and services.
Voice Broadcasting Information
Database Systems Corp. provides the most comprehensive voice broadcast solutions in the industry. The following is information relating to these call processing solutions.

---
To deliver phone applications and services, DSC has developed two series of phone systems, the WIZARD analog and the PACER digital phone systems. These systems are provided to our clients who wish to purchase their own system. They are also used exclusively at our own call centers for processing inbound call applications.

DSC voice broadcasting phone systems are PC based phone systems that incorporate Windows technology with Intel processing as well as computer telephony boards from Dialogic.

Our WIZARD phone system supports 4 to 48 analog phone lines. The PACER system supports 24 to 480 digital phone lines. These systems can be networked to provide a far greater number of digital lines. Database Systems Corp. maintains a secure data center where we provide call processing and automatic voice broadcast services for our clients. Using our own message broadcast phone systems and software, DSC is ideally positioned to provide a comprehensive voice broadcasting solution to virtually any group or community.

Our outsourcing service dials from a list provided by our clients and plays recorded messages. These messages can include a menu of selection items from which the call recipient may choose. Messages may be simply delivered by our phone service or the calls can be routed to a member of your organization. Voice mail broadcasting (or voice marketing) sends volumes of recorded phone messages to call recipients in a very short time period. Recorded messages are delivered to either live contacts or to their answering machines or voice mail systems.

DSC voice marketing systems are intelligent. Besides offering the ability to detect a live answer versus a voice mail system, our phone systems can properly deliver a unique message to the voicemail without truncating the message. DSC provides a complete voice broadcast development environment which includes our call processing software library of routines that can be called using most modern computer languages. DSC also provides voice broadcast XML software that can initiate a voice broadcast automatically from another computer system or website.

Our call handling software uses voice recorded prompts and menus to present information to callers. Touch-tone telephone keypad entries are gathered from the caller to collect information and to provide navigation through simple to complex menu structures. This call processing software provides information back to the caller in the form recorded messages or data converted using text to speech. The phone system can also route the caller to an agent or transfer the call to an outside phone number or extension. DSC provides phone services including voice broadcasting applications at our own managed call centers.

These centers provide secure and redundant enviroments for the maximum protection of our outsourcing clients. From small calling campaigns to projects that require broadcasting millions of calls, our call outsourcing center can do the job! One of the most common voice broadcasting applications developed by Database Systems Corp. is our CARE (Call Reassurance) program that calls seniors to ensure their well-being. An important feature included with our voice broadcasting phone systems and services is our extensive online reporting system. These reports provide the administrator with a complete view of the performance of calling campaigns and include graphical presentation of data as well.

This online reporting and feedback system helps you observe and control the performance of your automatic phone calling services.

Graphs and charts of operational statistics let you measure the effectiveness of each phone campaign as it is running.

The statistical information contained in each of these reports can be downloaded into a spreadsheet format for individually customized reporting. DSC provides two demonstrations of our voice broadcasting systems and services. Our quick tour presents an overview of our service while the online demonstration lets you view the actual voice broadcast administrative tool used to create and manage your calling campaigns.

To learn how to use our voice broadcasting services, click on the voice broadcast quick tour. (Popups must be enabled on your browser).

For a detailed online demonstration of our voice broadcast service, visit the voice broadcasting demonstration webpage.

If there is an emergency and you need to get a message out quickly, you can even use our 800 number service to initiate a voice broadcasting alert.

Voice Broadcast System Documentation

Database Systems Corp. provides several voice broadcasting user guides that detail the installation and operation of our voice broadcasting systems.

The first documents the installation and management of the DSC voice broadcast systems. The second manual is a user guide that presents information about the operation and management of a DSC voice broadcasting system.






---

Voice Broadcasting Video





Voice Broadcast Regulations

During the process of delivering voice broadcasting messages, DSC can automatically enter the called individual's phone number into a Do Not Call (DNC) phone list if your message has a "Press Through" feature. For example, your message can introduce your organization and product or service. For commercial voice broadcasts, you MUST give the called individual an option to be removed from your call lists at the beginning of the recorded message. If the call recipient presses the appropriate number on the phone keypad, our software can automatically enter this phone number into a DNC file and terminate the call.

The following are just a few of the FTC regulations that govern the broadcasting of automated phone messages to individuals. Although most of these guidelines apply to commercial broadcasting, it is important to follow all of the rules dictated by the FTC (See Telemarketing Sales Rule).'

Prior Written Consent. (The ammendments) expressly prohibit telemarketing sales calls that deliver prerecorded messages, whether answered in person by a consumer or by an answering machine or voicemail service, unless the seller has previously obtained the recipient's signed, written agreement to receive such calls.
Opt Out Option In Phone Message. (The ammendments) require that, by December 1, 2008, sellers and telemarketers provide, at the outset of all prerecorded messages, an automated keypress or voice-activated interactive opt-out mechanism so that consumers can opt out as easily as they can from a live telemarketing call.
Answer Machine Message Containing Toll Free Opt Out Number. In cases where the call is answered by an answering machine or voicemail, (the caller must) provide a toll-free number that allows the person called to be connected to an automated interactive voice and/or keypress-activated opt-out mechanism anytime after the message is received.

Because new FTC requirements mandate that outbound calling companies give call recipients the ability to opt out of a calling campaign, this technology is more important than ever. The advantage to your organization is that now this process can be fully automated using our Opt Out IVR system. Your call campaigns can be programmed to give the call recipient the option to "Press x...." to be removed from your call lists.

For more information about this program, visit our Opt Out webpage.


---
Contact Database Systems Corp.
Contact Us Today to learn more about our voice broadcast systems and services.



Voice Broadcast Information
Quick Tour
Voice Broadcast Reports
Demonstration